Florida Everglades
Museum of the Everglades - Everglades City Florida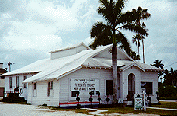 The Museum of the Everglades is located in Everglades City, Florida just off the circle in the center of town. A showcase for the history of the Everglades region, the Museum presents the story of 2,000 years of human habitation with artifacts and period photographs. Education programs, lectures and events are presented throughout the year.
Opened April 26, 1998, the Museum is in the Old Laundry, one of the buildings that dates to the time when the Tamiami Trail was being constructed. Built by Barron Gift Collier as part of his planned community, the laundry served the people of the new city of Everglades.
Designed and opened as a commercial laundry on October 24, 1927, the building was used for this purpose until just after World War II. It was considered a "state of the art" facility.
Collier Development Corporation continued to used the building until 1960 when Hurricane Donna hit Everglades City. The Everglades Woman's Club received use of the building in 1965 and purchased it in 1972 for a club house. The Club disbanded in 1988 and donated the site to the County for use as a museum.
The Friends of the Museum of the Everglades was formed and became incorporated in 1992. The combined efforts of the Friends, the City of Everglades City, Florida Department of State, Division of Historical Resources, and Collier County Government helped restore the graceful frame building.
The Museum's operating hours are Tuesday through Saturday, 9 AM to 4 PM and is located at 105 W. Broadway. A gift shop and restroom are on premises. The building is universally accessible. A donation of $2 is suggested. The turn off to Everglades City is located at US 41 and SR 29. The museum is about 3 miles down SR 29 to the circle. For more information, or for group tours, please contact Timothy England, Manager, during museum hours at 239-695-0008, or fax at 239-695-0036.