Florida Everglades
Everglades City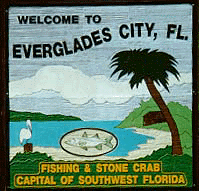 GENERAL INFORMATION
"Everglades City proclaims itself as the Gateway to the 10,000 Islands, and for paddlers that is most certainly true. It is one end of the Wilderness Waterway, the famous Everglades backcountry route linking Everglades City to Flamingo. It is the best place in the 10,000 Islands to rent canoes or kayaks, hook up with a guided paddling excursion, or find a comfortable room from which to base your explorations of Big Cypress National Preserve, Everglades National Park, and Fakahatchee Strand State Preserve. It even has a tiny airport, so you can fly in or book a float plane tour to get a bird's-eye view of the islands before putting your paddle to the water.
Prior to 1923, Everglades City was called Everglade, a name given the settlement along the crooked little Allen's River in 1893 by Bembery Storter after the U.S. Post Office refused the request for the name Chokoloskee. Farming was the primary occupation of people living in the area and included sugarcane, bananas, and vegetables. Allen gave Everglades City its start, but George T. Storter is considered the true founder of the town. He and his family were prominent in Everglade's growth and activities and owned much of the land around the town until the arrival of Baron Collier in 1923. It was under the Storter stewardship the Everglade began to draw visitors and sportsmen. The Rod and Gun Club was built around the Storter home.
Barron Collier is primarily responsible for the foundation of Everglades City as you see it today. In 1923 he and his company purchased most of the land in and surrounding the town. Within five years the sleepy trading post and farming community was converted into a bustling industrial-based comp[any town replete with roads, a railroad, a bank, a telephone, sawmills, a boatyard, churches, a school, workers' barracks and mess halls, and even its own streetcar at one time. The Ivey House, home of NACT-Everglades Rentals and Eco Adventures, was once one of the Collier Company workers' barracks.
With the establishment of Everglades National Park and subsequent purchase of most of Big Cypress Swamp and the 10,000 Islands for conservation, Everglades City once again looks to the natural environment for economic viability through nature tourism, sportfishing, and commercial crabbing. Everglades National Park was formally dedicated in Everglades City on December 6, 1947. The Gulf Coast Visitor Center of Everglades National Park is perched at the edge of the Chokoloskee Bay, and many paddling routes depart from the canoe ramp behind the maintenance buildings."
by Jeff Ripple, author, Day Paddling - Florida's 10,000 Islands and Big Cypress Swamp
EVERGLADES CITY ACTIVITIES
Everglades Area Tours Enjoy a guided boat tour in the 10,000 Islands; Experience kayak fishing in the Everglades National Park backcountry; Canoe through magnificent mangrove tunnels; Enjoy a guided bicycle tour amongst old-growth cypress hammocks; Catch tarpon and snook on a guided fishing trip; Hike into the prairies, wetlands and sloughs to find rare orchids; Take a guided birding trip; or over fly the entire area in a float plane.

Located in Everglades City, ½hour from Naples & Marco Island; Less than 1 ½ hours from Miami, Ft. Lauderdale, Ft. Myers & 2 hours from West Palm Beach, we are a great destination for a day trip or an extended stay. Combine tours in a single day or over several days and enjoy the small town ambience of our waterside community. Be it on foot, bicycle, kayak, canoe, power boat, and/or airplane. Everglades Area Tours provides a Complete Everglades Experience. Fishing Information for fishing in Southwest Florida. Everglades Backcountry Experience - Fishing and backcountry excursions with Capt. Rodney Raffield. Enjoy the beauty and wildlife of the Everglades on a unique fishing trip through the 10,000 Islands and Everglades.

Everglades Island Boat Tours and Totch's Island Boat Tours - airboat trips that take you deep into the vast and silent Everglades jungles.

Everglades Kayak Fishing Florida Everglades - Catch the Experience of Everglades Kayak Fishing with Capt. Charles Wright - guided Florida Everglades Kayak fishing trips in the Everglades National Park and the 10,000 Islands, Florida.

Captain Jack's Airboat Tours - Take thrilling airboat tours through mangrove tunnels and wide-open grasslands, then soak up more nature on a swamp buggy ride! Visit our website to get a coupon for FREE admission to our animal sanctuary, home to 100 alligators, panthers, tigers, otters, snakes, and live alligator shows!
EVERGLADES CITY BUSINESS