Florida Everglades
Today's Date Is:

The Everglades and the Ten Thousand Islands is a rare and beautiful place. It is one of North America's unsung wild places - a beautiful, rugged, subtropical landscape experienced by a relatively few adventurous souls each year. Many who appreciate the unique qualities of this wilderness will argue that it is a place better kept secret. Perhaps, in my quest for solitude and a deeply personal communion with nature, I might ordinarily agree. But I also feel that it is a resource important not only for its natural heritage and spiritually enriching powers, but for its commercial and recreational values as well.

Jeff Ripple
The author of Southwest Florida's Wetland Wilderness.
---
---
WATERFRONT RV RENTAL AVAILABLE WITH BOATSLIP
1 Bedroom/1 Bath Chokoloskee/Everglades City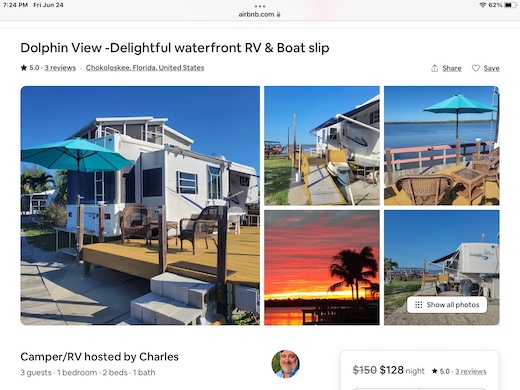 Click Here for more photos & information
or to book your stay.