Florida Everglades
Ochopee Florida Post Office
The Nation's Smallest Post Office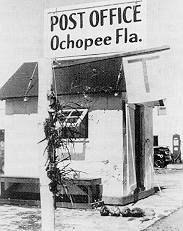 The post office at Ochopee, Florida, our nation's smallest, is a regular stop on the south Florida tourist circuit. The building, once a tool shed, was converted into the post office after a fire in 1953 destroyed the original Ochopee Post Office located in the Gaunt Company Store.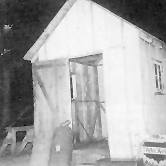 The tool shed, prior to its conversion to the Ochopee Post Office.
In 1953 the structure served as both the post office and the Trailways Bus Stop. Local residents, Mr. Cail and Mr. Sidney Brown built shelves and cubby holes to hold the mail. When Tamiami Trail was widened, the building was moved back on a wheel barrow to its current location.